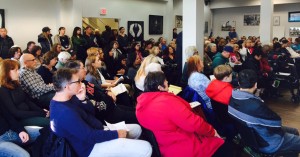 Sunday's Town Hall organized by MLA Judy Darcy and MP Peter Julian was overflowing with people and generosity. It was truly inspirational to have such a broad cross-section of our community–business owners, youth, seniors, faith groups, unions, dentists, community organizations, and many more–speak up to welcome refugees and offer concrete support. There's also such an amazing network of community agencies in New Westminster who go above and beyond every day to support people in need.
You can learn more about the Town Hall by watching this news clip produced by Global News.
In response to the numerous inquiries from the community about how to help welcome refugees to New Westminster, Welcoming and Inclusive New Westminster (WINS) has compiled the list of organizations below that you can contact.
---
Inquiries related to Accommodation and Volunteering
The Immigrant Services Society of BC has established a registry where those wanting to make a contribution can sign-up to provide accommodation and employment or volunteer their time. http://www.issbc.org/prim-corp-nav/our-work-with-refugees/refugee-crisis/how-can-i-help-refugees.
Inquiries related to Private Refugee Sponsorships
Citizenship and Immigration Canada provides information related to sponsoring refugees. As a sponsor, you would provide financial and emotional support for the refugees for the duration of the sponsorship, which is typically one year. This includes housing, clothing and food.   http://www.cic.gc.ca/ENGLISH/refugees/sponsor/index.asp
MOSAIC BC is playing a key role with regard to facilitating Private Refugee Sponsorships. To access information about being a sponsor or to attend an information session, please visit: http://www.mosaicbc.com/refugees/refugee-support-you-can-change-lives-refugees
How to Make a Donation
The Welcoming and Inclusive New Westminster (WINS) Local Immigration Partnership (LIP) Council has established an account to hold cash donations to help support the settlement of Syrian refugees in New Westminster. The Lower Mainland Purpose Society, as host agency for the LIP initiative, is designated to hold the funds. Use and distribution of the funds will be overseen by a sub-committee of the LIP Council.
To make a donation and to receive a tax receipt, the following methods are available.
By Cheque: Payable to the 'Lower Mainland Purpose Society,' plus indicate 'LIP Refugee Fund.' Cheques can be dropped off at Lower Mainland Purpose Society, 40 Begbie Street, New Westminster, BC, V3M 3L9.
By Credit Card: Phone the Lower Mainland Purpose Society at (604) 526-2522.
In Person: Drop by the Lower Mainland Purpose Society, 40 Begbie Street, New Westminster.
Don't forget your return address for a tax receipt and indicate that your donation is for the 'LIP Refugee Fund.'
Inquiries related to Offering Employment
Fraser Works Co-op, which is a one-stop WorkBC Employment Services Centre in New Westminster, can match employment opportunities with Syrian refugees of working age.
Please contact: Michelle Danyluk or Tracey Fraser at Fraser Works Co-op Second Floor, 519 Seventh Street, New Westminster, V3M 6A7 info@fraserworks.ca or 604-522-9701 ext. 123
How to Donate Products and Services at No or Low Cost
My Community Office has established a registry where businesses and organizations can offer products and services to assist in Syrian refugee resettlement in New Westminster – e.g., dental services, grocery gift cards, etc.
Judy Darcy, MLA Community Office, 737 Sixth Street, New Westminster, V3L 3C6, (604) 775-2101, Judy.Darcy.MLA@leg.bc.ca

Inquiries related to Federal Government Programs and Services
MP Peter Julian's Community Office works with constituents to address problems related to federal government programs and services, including immigration. Anyone with questions are encouraged to contact his office.
Peter Julian, MP Community Office, 7615 Sixth Street, Burnaby, V3N 3M6, (604) 775-5707, Peter.Julian.C1@parl.gc.ca
Inquiries related to Donating Clothing and Household Items
The New Westminster Inter-Ministerial Association and Gurdwara Sahib Sukh Sagar (Sikh Temple) will be establishing reception sites for the donation of new or good condition clothing and households items. These reception sites will not be operational until there is a better idea as to refugee numbers, age, gender and family composition so that donations can be targeted to the needs of refugees. This information will be available on the City's website and WINS member websites.
Inquiries related to Food and Meal Programs
The Greater Vancouver Food Bank Society, which operates a food bank in New Westminster, and the Muslim Food Bank will be working together to help ensure that Syrian refugees culturally appropriate food. In the meantime, those wanting to make a contribution can purchase a food bank voucher at their local grocery store, in which the proceeds will be used in New Westminster, or make a donation of food or money to the Greater Vancouver Food Bank Society and the Muslim Food Bank. This will not only benefit Syrian refugees but residents with low-incomes or living in poverty.
https://www.foodbank.bc.ca/ and http://www.muslimfoodbank.com/