New Westminster is home to many distinct neighbourhoods – like Connaught Heights, Moody Park, West End, Glenbrook North, Massey Victory Heights, Brow of the Hill, Queen's Park, Sapperton, The Quay, Uptown, Downtown, and Queensborough. But it is also known far and wide for its profound sense of community.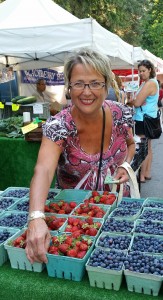 Formerly the capital of BC, New Westminster has a rich history. In fact, our city boasts some of the oldest institutions in BC, such as the former BC Penitentiary (est. 1878) and Irving House (est. 1865). It's also chock-full of traditions like the annual May Day festivities and is home to a farmers' market which first opened in 1892. New Westminster is also a culturally diverse city, home to many new Canadians who bring their own new and exciting traditions.
New Westminster is a growing and constantly-changing city attracting many new residents and new businesses every year. The revitalization of our waterfront has been widely-acclaimed – with the addition of the Fraser River Discovery Centre, the award-winning Westminster Pier Park, and River Market (a haven for shoppers and foodies!)
The City of New Westminster is the only city in Canada that has a Living Wage Policy, and is the first local government to issue an apology to the Chinese community for the Chinese head tax.