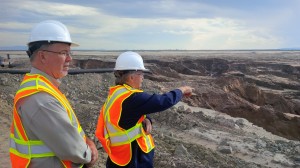 VICTORIA – It's been 50 days since the Mount Polley tailings pond failure and the community of Likely has more questions than answers, say B.C.'s New Democrats.
"Fifty days after the unprecedented tailings pond disaster in Likely, the cameras are gone, the media is gone and the government is gone," said New Democrat Leader John Horgan. "And people are left wondering what happened, and what happens next?"
Horgan was in Likely and the region earlier this week, meeting with people and businesses and touring the mine site.
"I spoke with people in the area who have a wide range of concerns: from the toxins in their water to possible effects on the salmon run which communities and First Nations depend upon," said Horgan. "And they are getting no answers from the B.C. Liberal government."
Horgan added that the spill poses a huge risk to future resource development in the region.
"We need good resource jobs, which are good for B.C. But we need resource development done right," said Horgan.
"Premier Christy Clark and the B.C. Liberals briefly swooped into Likely several days after the tailings pond failure, saying all the right things," said Horgan. "People tell me they haven't seen any follow-through."